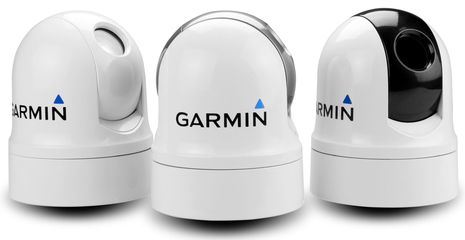 I'd already gotten some details on the several interesting new products Garmin is announcing today -- and was excited about sharing them -- but it wasn't until late last night that I had any inkling about Garmin's acquisition of Interphase Technologies, a pioneer in phase array forward looking sonar (FLS). Wow! The deal means that Garmin will soon have a new and unique arrow in its quiver of MFD network sensors and that FLS for fishing and navigation will get some of the attention I think it's always deserved. It's not just that Garmin will market the Interphase technology better, but that the technology will no doubt be easier to use and to afford when integrated with Garmin displays. It will probably work better too...
Note in the Interphase press release that company founder Charles Hicks and his team will continue to work on sonar from their base in California, only now with Garmin helping with engineering and taking care of non-engineering business. It's the same model Garmin used when it acquired autopilot innovator Nautimatic, and that sure worked out well (as we'll get more evidence of later this week).
Now, how about those three compact navigation cameras seen above? Yes indeed, Garmin is introducing three pan/tilt/zoom (PTZ) thermal and low-light cameras and I see lots of interesting detail in that press release. For one thing the cameras seem to be completely controlled by Garmin 4000/5000/6000/7000 multifunction displays, and why not, given that you need the MFD screen to see the streaming cam video anyway. They also use NMEA 2000 as the control network, which may simplify installations in some cases, and possibly lead to other synergies. What really gets my attention, though, is the promised tracking features...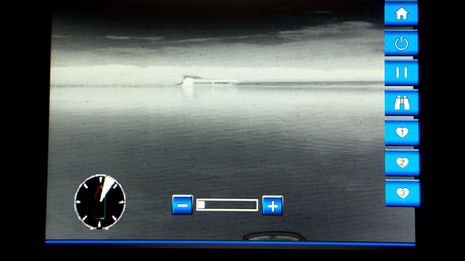 A Garmin user with the new high-res GCT 30 thermal cam -- seen above looking over what might otherwise be pitch black scene -- will be able to pick a point on his chart, including moving MARPA or AIS targets, and have the camera pan/tilt to view it, and keep tracking it. That sort of integration greatly increases the usefulness of the camera, I think. And it's worth noting that Raymarine still doesn't have this feature -- sometimes called cue and slew -- for its FLIR thermal cameras, though I'm sure it will eventually (and Furuno/MaxSea already does).
But that's not all. Apparently the GCT 30 and GCT 20 thermal cams can also do hot spot tracking. That's for when you spot something on the thermal screen and want to keep an eye on it, so the camera locks onto its heat signature and controls its pan and tilt to follow. I've only seen this feature on a very high end thermal system. And whereas Garmin's are fully integrated with the plotter, I wonder if the heat-tracked object can be overlaid on a chart like a MARPA target? Full integration of sensors like this, and hopefully FLS, leads to good stuff..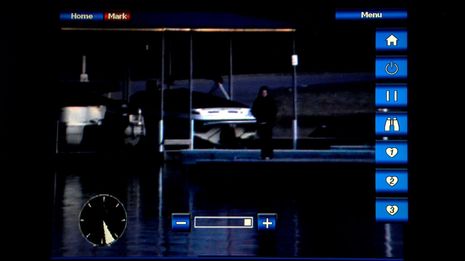 I also think it's neat that Garmin is including a low-light camera option in this new line. In my experience a good PTZ low-light cam can be very useful in all but deep dark conditions, and actually better than thermal in rain. They're also a lot less expensive and some, like Garmin's GCL 20 have amazing zoom abilities. Like 28x optical and 12x digital, for a combined total of 336x zoom...and one heck of a spyglass. That's the GCL 20 at work above, and these screen photos also show what look like pretty intuitive touch controls. I'm scheduled to get a look at these cameras in action Thursday night and I will certanly report back.
There's lots to do in the meantime but I can not finish this entry without at least a mention the BlueChart Mobile marine app for iPad and iPhone also announced this morning. The significant features -- besides getting Garmin charts to your ithing -- are support for Active Captain user generated content and a WiFi relationship with Garmin MFDs that will not only support syncing of routes but also put at boat GPS onto your mobile. I'm not sure when we'll get to see this app, but I've always figured that when Garmin was ready with one it would be sweet.
Of course you all may spot interesting details in all these press releases that I missed. Please speak up with those or with questions I should ask in Miami.